6 Ergonomic Positions
Transitions in a snap from newborn to toddler.
Fetal Carry
Wide Seat (Infants)
Newborn through 2 months of age, (approximately 7-12lbs) infants may be worn in the fetal carry position, also called froggy position. This newborn position mimicks their fetal posture in the womb and may be extra soothing and comforting in their early days. Adjust your carrier to the wide seat setting and position an infant pillow to prop baby up to the appropriate height. Baby's head should clear the top of the carrier panel and rest near the collar bone of the wearer's body. In this position, an infants legs stay within in the edges of the carrier panel.
Inward Facing Carry
Inward Facing Carry
The Elevate's inward narrow seat is designed to carry newborns and small infants in an ergonomically correct position, supporting early hip and spine development. Use the carrier in the narrow seat (side panels zipped down and tucked into the waist band) until your child is wearing 18–24-month-old clothing sizes. In this position, your infant's legs hang outside the carrier. Do not use the infant positioning pillow. To wear your newborn with the positioning pillow, follow the instructions for the fetal carrying position.
Inward Facing Carry
Wide Seat (Toddlers)
The Elevate is designed to provide ergonomic support for infants and toddlers as they grow. When their legs are no longer supported from one knee to the other by the carrier in the narrow seat position, it is time to widen the seat. Most children need to size up when they reach an 18 month clothing size. Zip up the side panels and snap into place. The panel should extend to, but not beyond the back of the child's knees. Child's knees should be able to swing freely, without any bunching of fabric behind knees. Readiness for wide seat is determined by femur length, and not weight or age. Do not carry small infants and newborns in the wide seat position - use narrow seat or the fetal carry.
Front-Facing Carry
Narrow Seat
An ideal carrying position to give curious little ones a front row seat to the world. Because there is no support for baby's head and torso while outward facing, do not face outward until baby is 6+ months of age and has excellent head control. Only use the narrow seat position when outward facing. If baby falls asleep in this position, immediately reposition to the appropriate inward facing position to provide head and neck support.
Hip Carry
Wide Seat
An alternative carrying position for growing toddlers who want to see the world without blocking their parents' view. Babies supported in a hip carry should be at least 6 months old and demonstrate strong, consistent head support. Hip position can only be used with the wide seat setting.
Back Carry
Wide Seat
As older infants and toddlers grow heavier and taller, this carrying position offers a shift in weight distribution on the wearers body for increased comfort during extended babywearing. Once babies can fit the Complete Carrier's wide seat setting (approx. 18 months clothing size) back carrying becomes an attractive option for caregivers and extends the joy of babywearing for many months.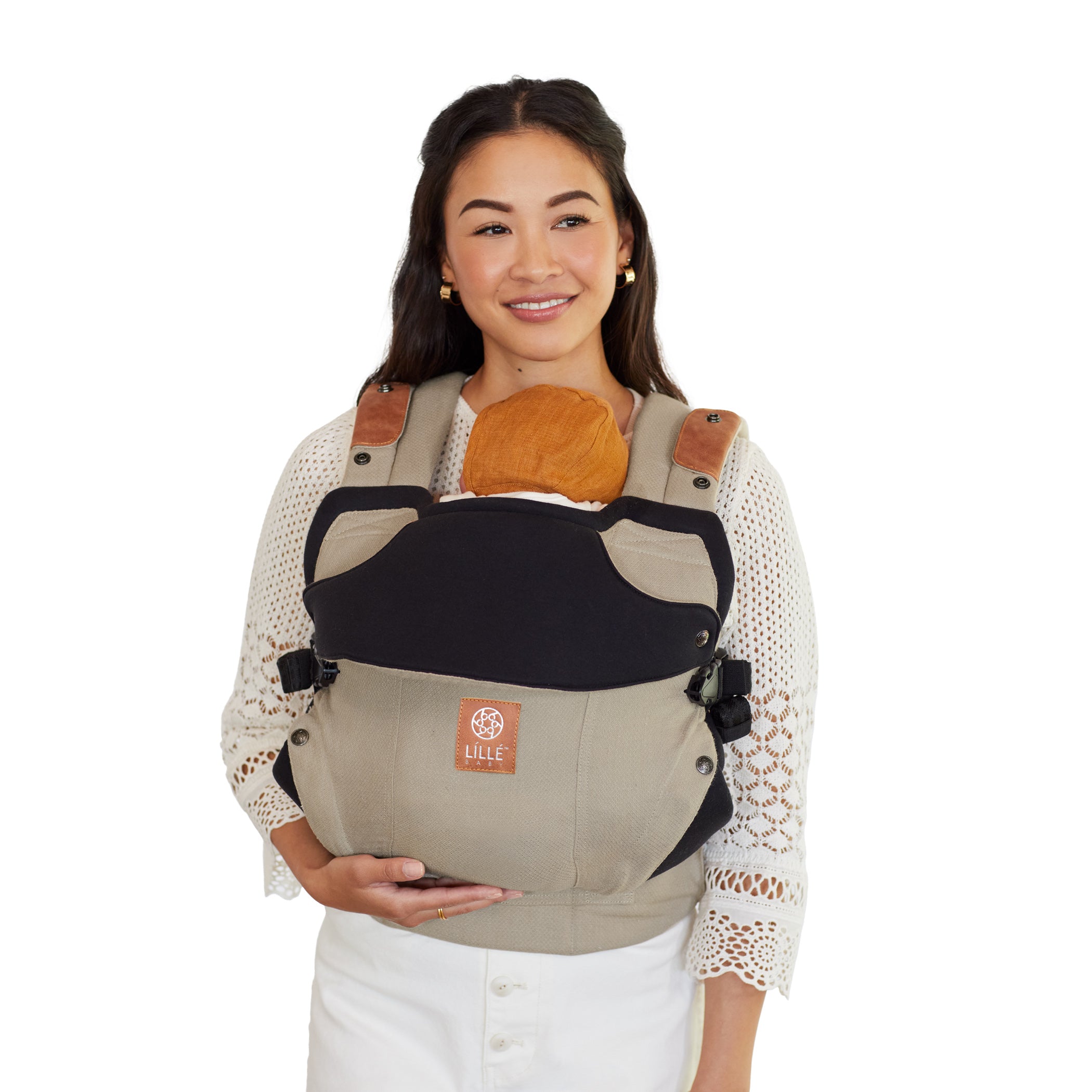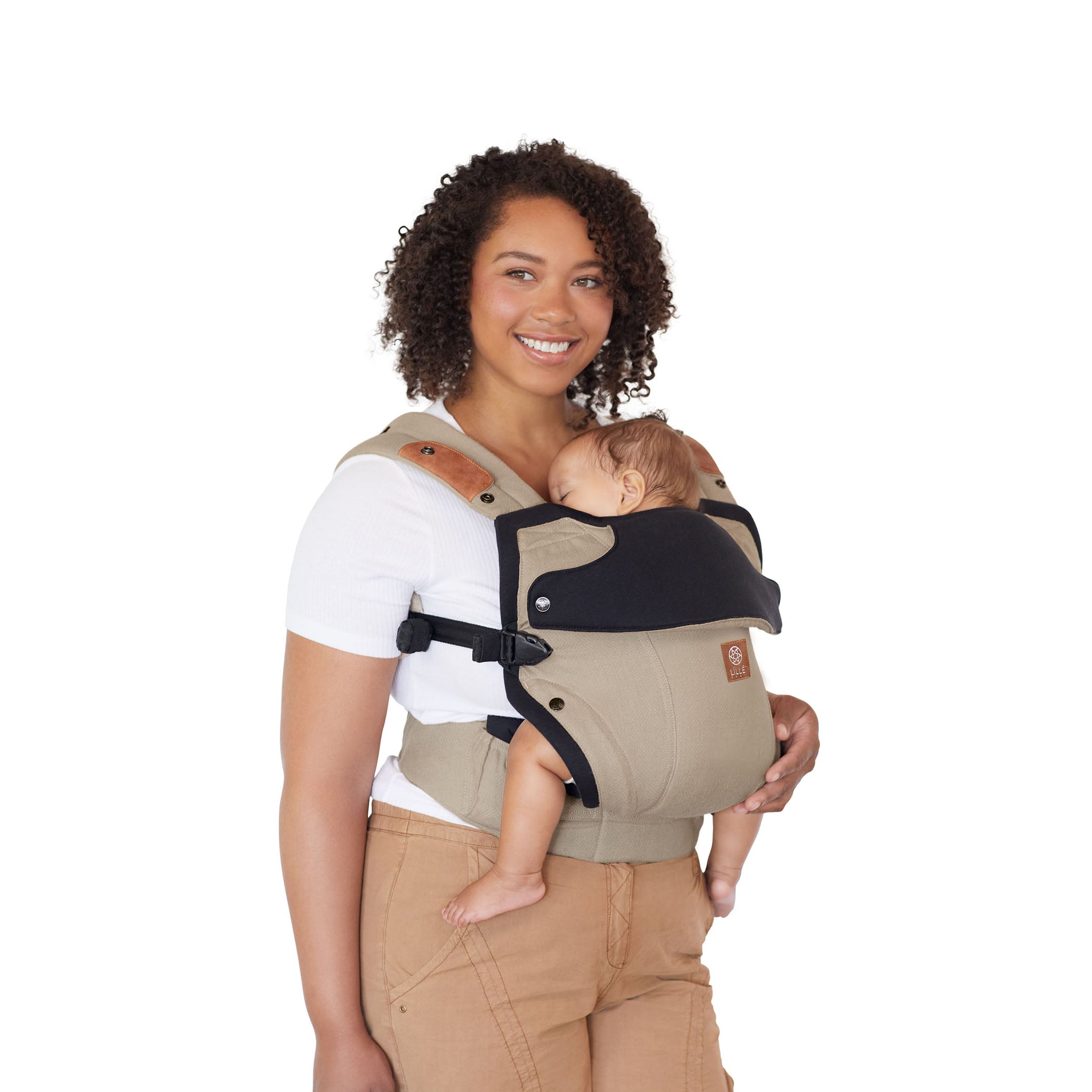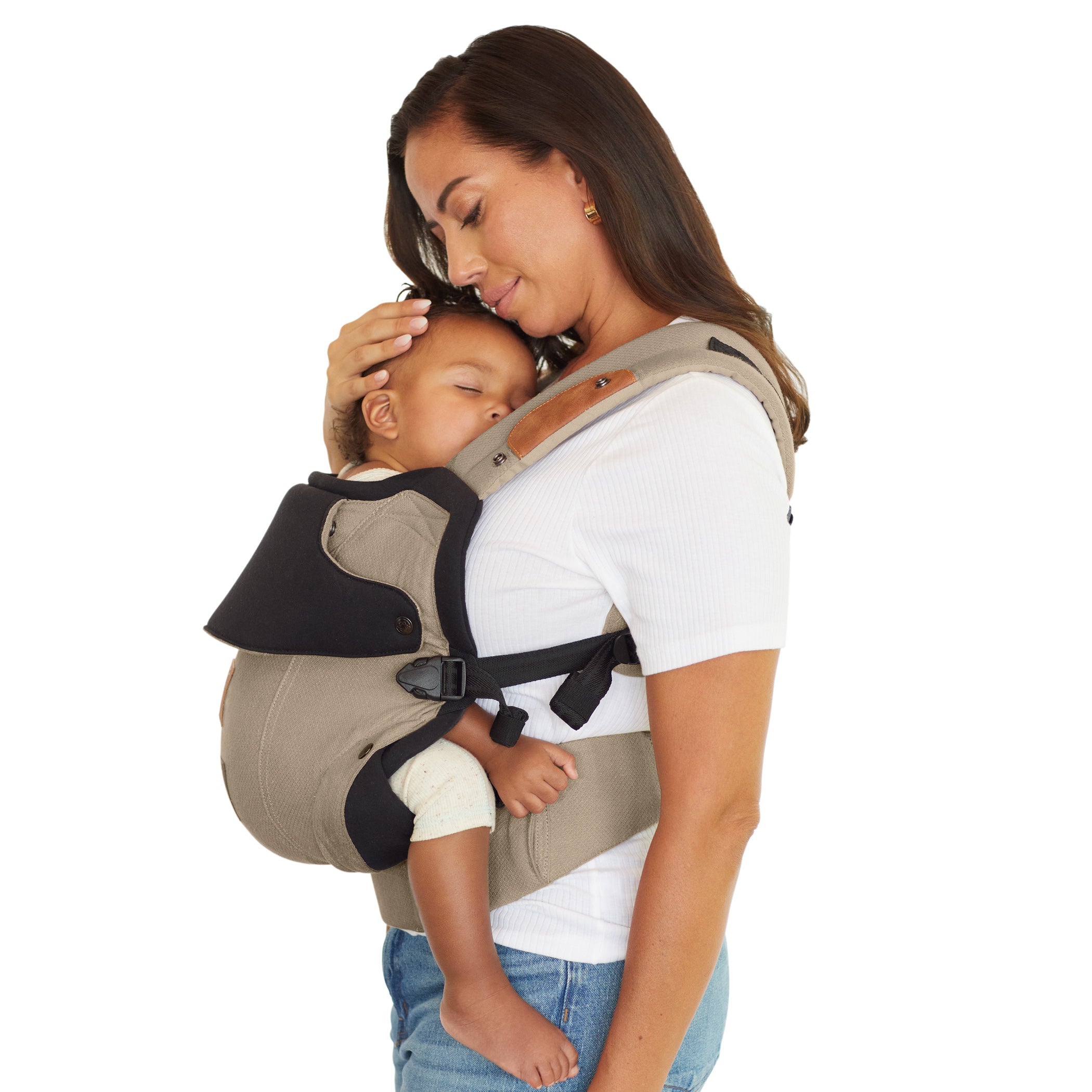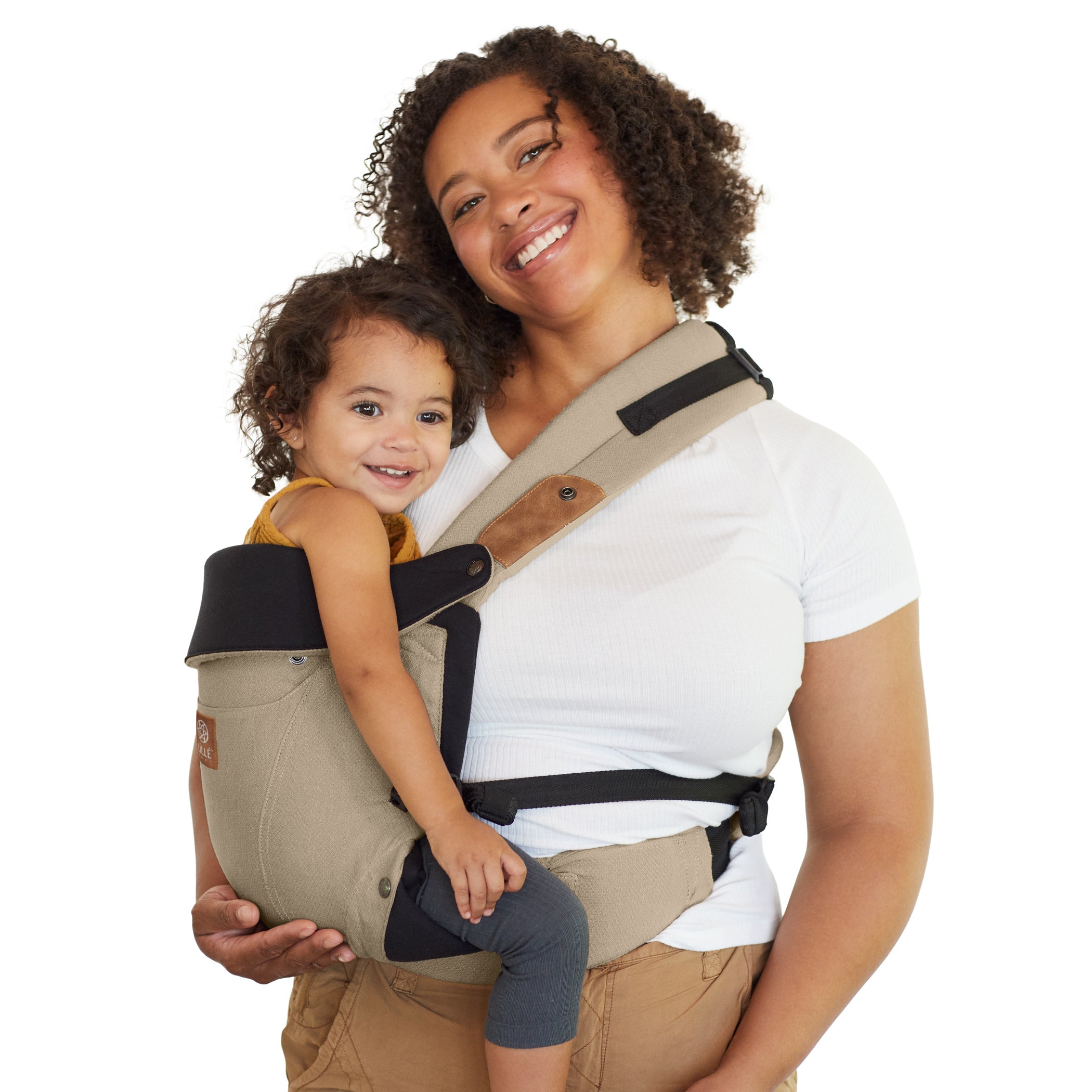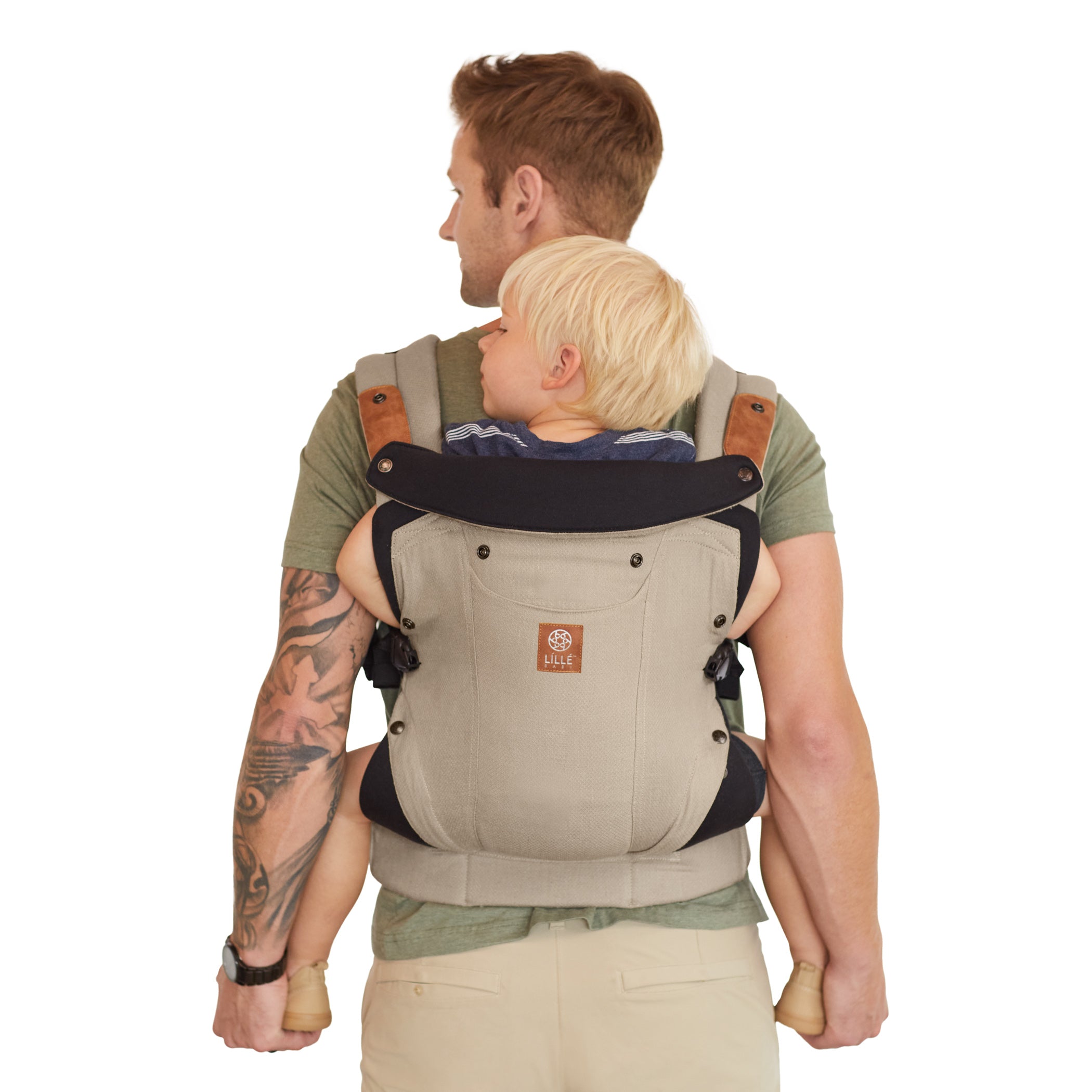 Refined style, luxurious finishes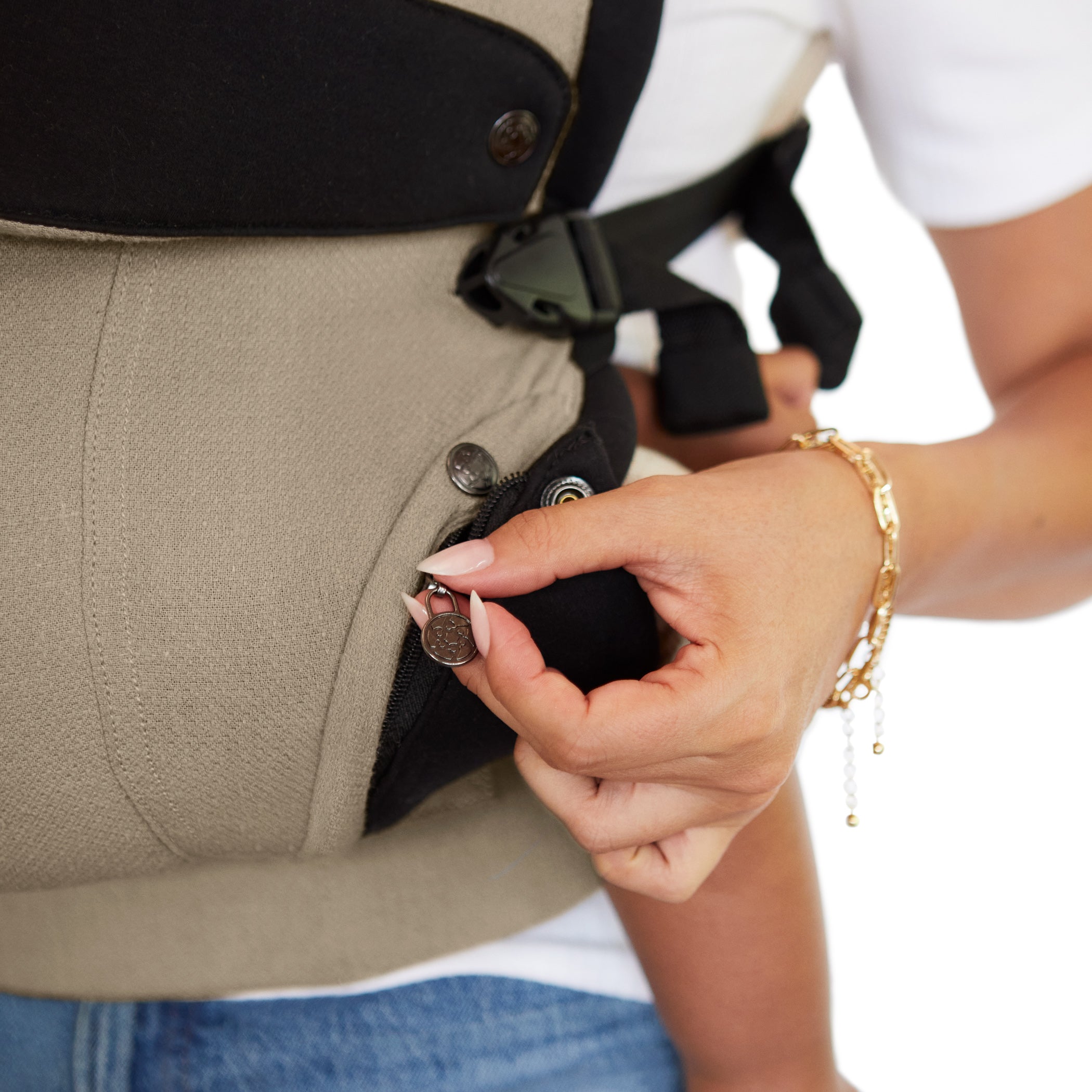 Luxe brushed nickel metal hardware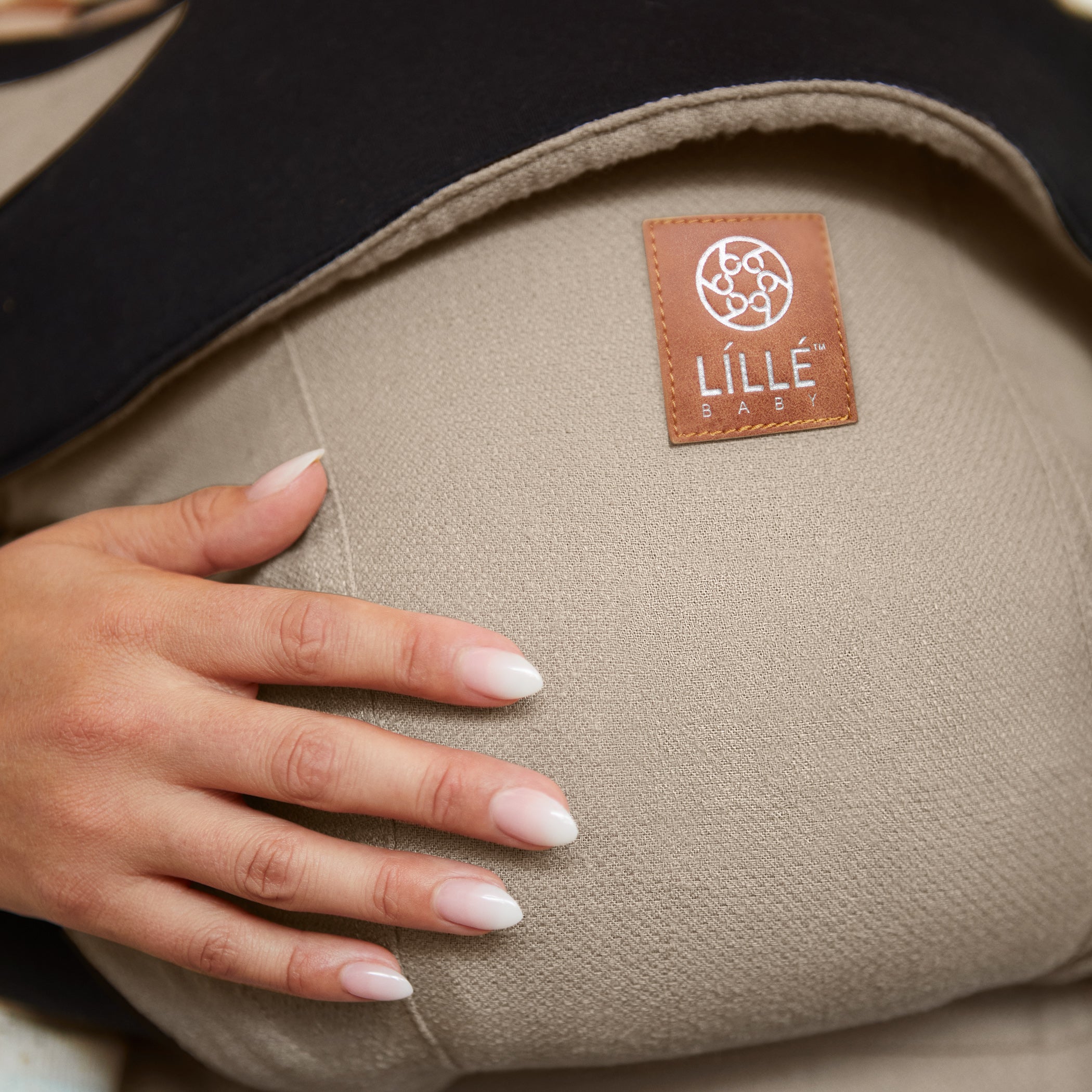 100% hypo-allergenic cotton lining and linen-blend shell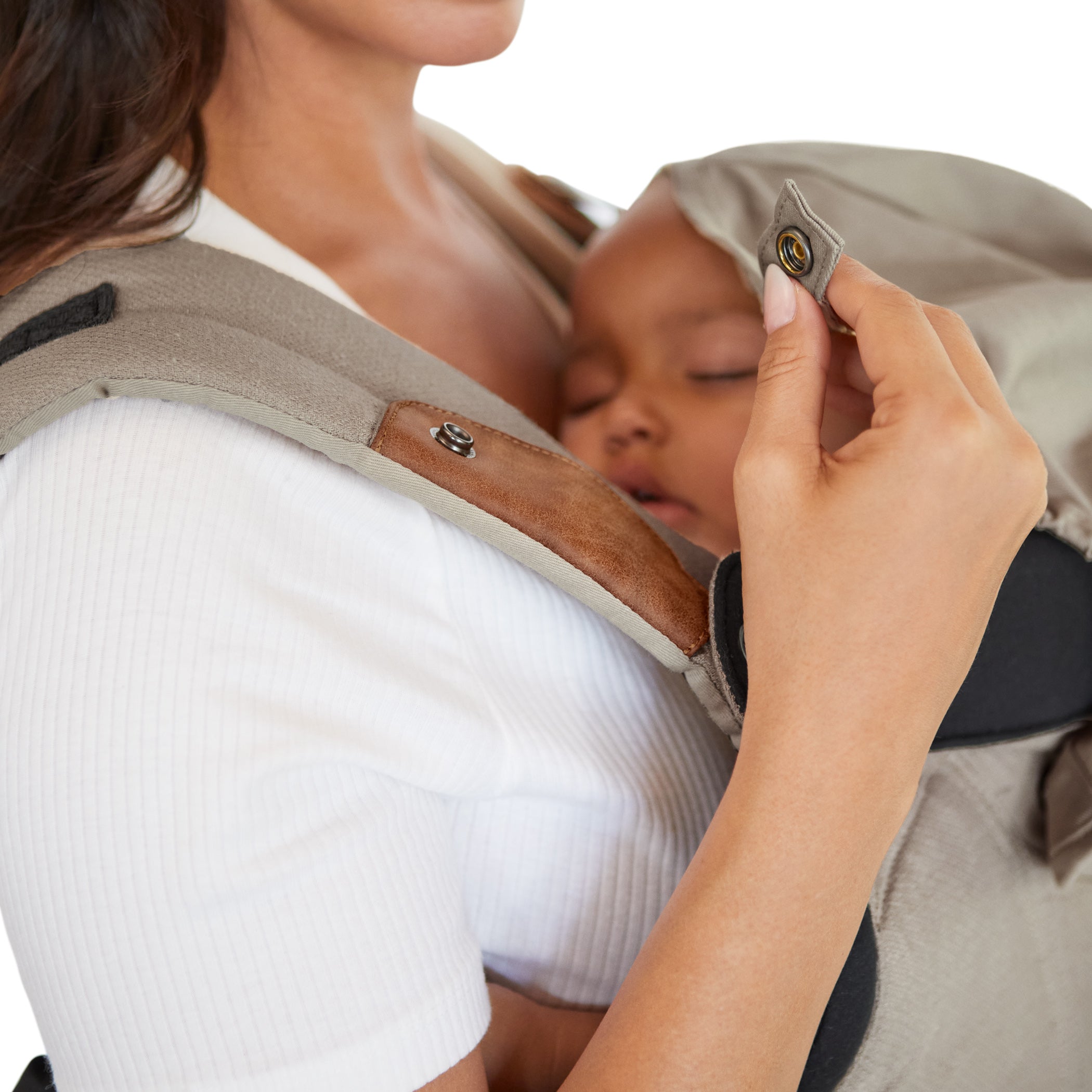 Vegan leather accents, 3-position, adjustable head and neck support & linen sun hood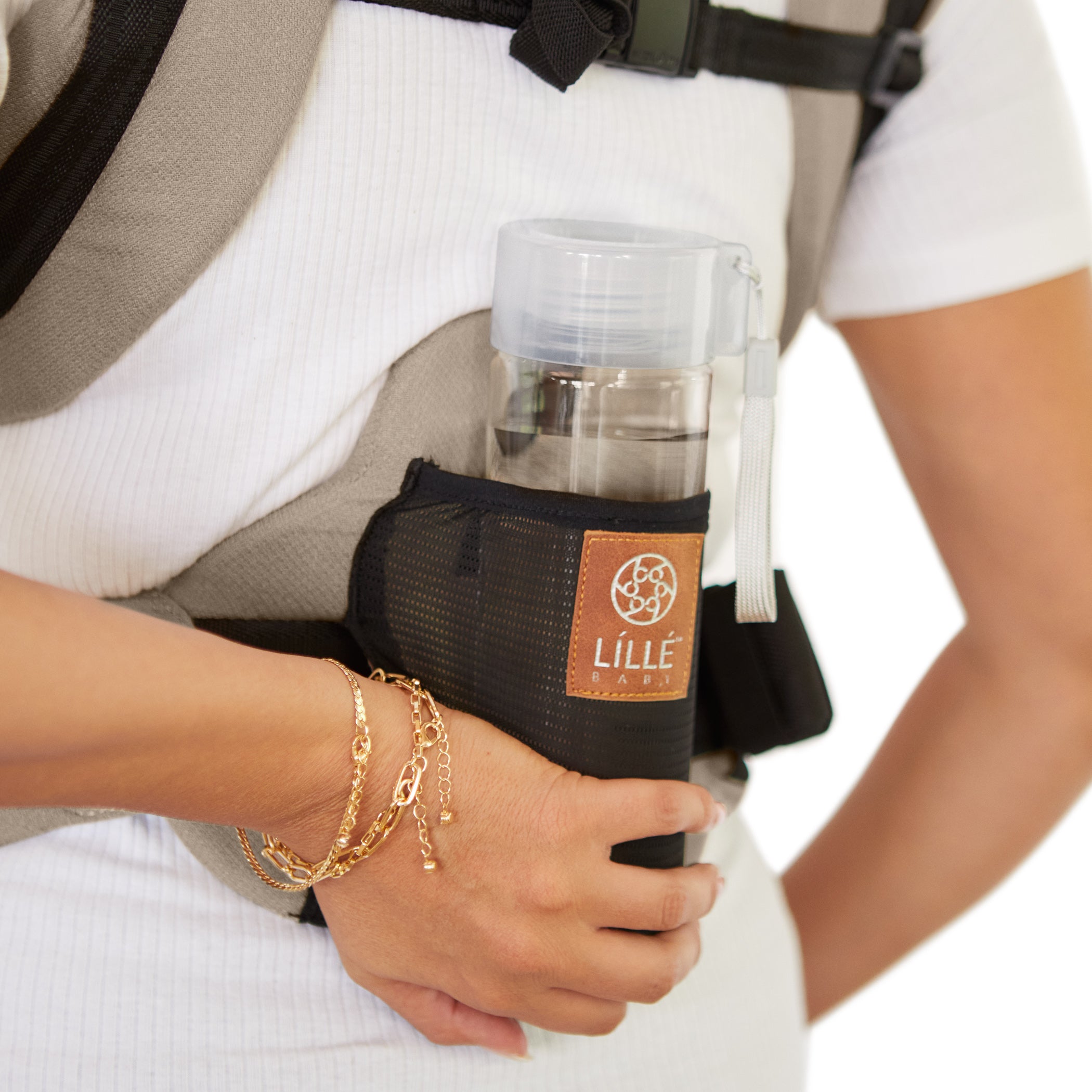 Generous lumbar support with integrated storage pocket
Compatible with Lillebaby Pocket Pouch (sold separately)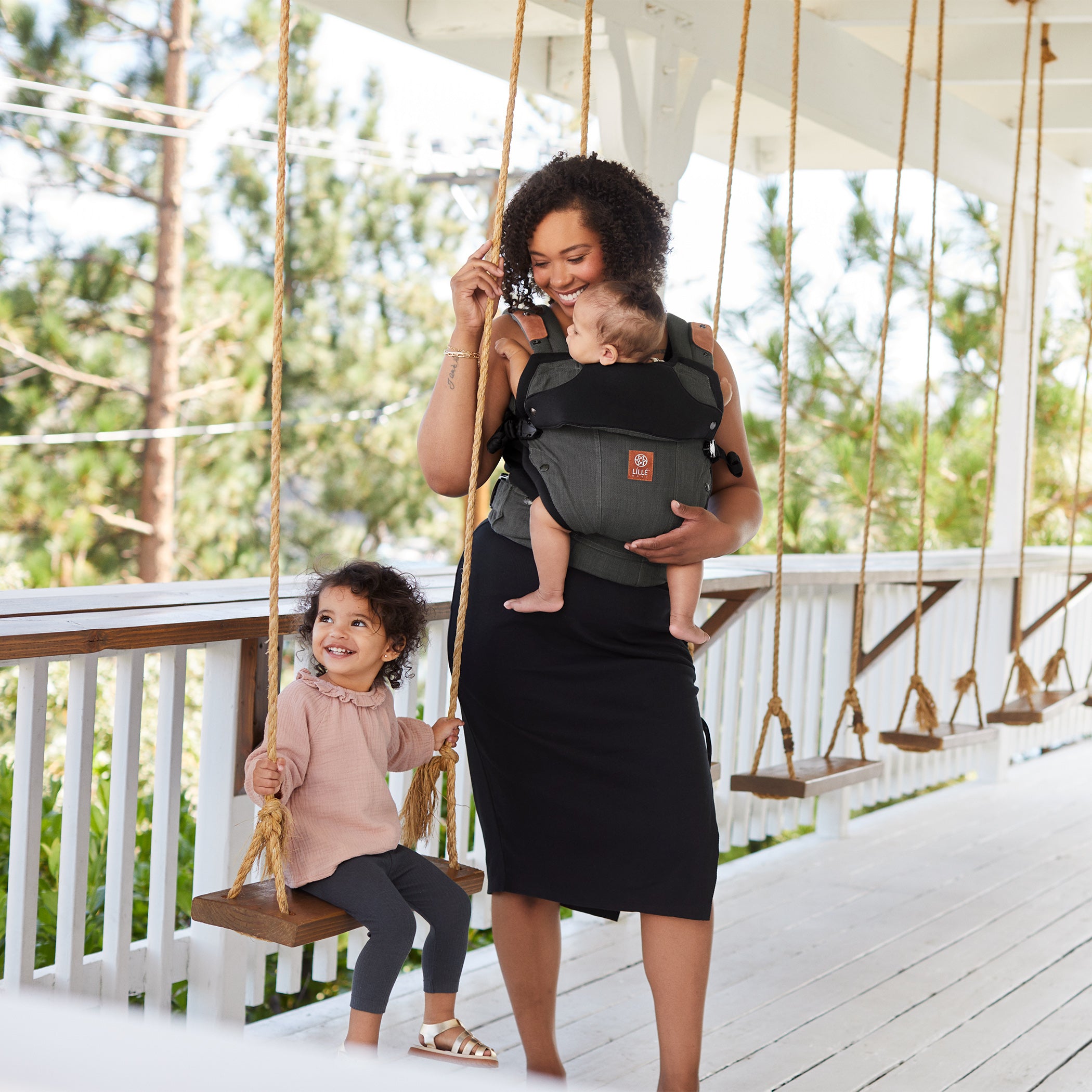 Adjustable waistband extends to 52 inches (size 22/24). Compatible with Lillebaby Waistbelt Extension (sold separately).
Experience the simple functionality of Elevate